I'm a nobody on LinkedIn, but accidentally created a post that reached over 400,000 people, with 7,000 likes, 240 comments, and it's growing by the second.
The crazy part about going viral on the world's largest professional network?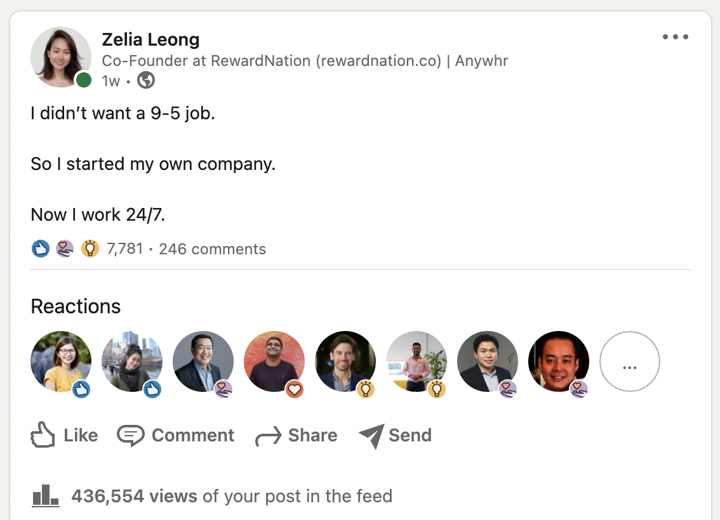 That viral post is a 3-sentence meme.
-
Building a Peer Recognition tool means I was constantly reading and writing about People & Culture topics. I started writing short, practical articles like case studies and book notes. The response from my network has been positive, but the engagement rate stayed average. Nothing out of the ordinary: and I was happy with it.
Last week on the train, a sudden inspiration struck me and I posted that random joke on my feed. Not something people usually do, but I've been a meme connoisseur since the dawn of 9gag.
I forgot about the post. When I opened my LinkedIn app a few hours later, I was shocked that it was blowing up! It got to a few thousand views within an hour. 24 hours later, it was still going strong - with dozens of comments and hundreds of reactions. "It'll die down soon", I thought. A few days later, half a million people have seen the post and it's increasing by the second.
Here are the 5 things I've learned from accidentally creating a viral LinkedIn post:
1) Humour on LinkedIn is subjective
My post was a simple joke, which is also the life many are living. With thousands of people enjoying the joke, came a few who took it seriously in the comments section.
My natural instinct was to say something sarcastic as a reply: someone commented "(complaining about) working 24/7 as an entrepreneur? means you regret your decision?", I almost replied "no, it means you didn't get the joke".
But I realised that instead of having a childish, unconstructive reply, it can be a great opportunity for exchanging opinions and learning from each other.
2) 'Quality' of Your Post is Subjective
Content is King - I've learned so much from great content that companies and individuals share on LinkedIn - articles, podcasts, discussion threads.
I've also created a fair share of it. (Read some of my not-funny content.)
But what got the attention of tens of thousands of folks, and increased interest in RewardNation by more than 100x? A simple, unplanned, 3-line post. Indeed, quality is subjective.

Don't forget that people on LinkedIn are the same people scrolling through memes and dog videos on Instagram to pass time on their breaks. A simple gag post could be relevant to more people than you think.
3) Quality of Your Engagement is NOT Negotiable
Instead of simply 'liking' comments, I made an effort to have thoughtful replies to most of them. That started great conversations, helped me and others learn and share a good laugh together.

When people see that you're engaging with their replies, they tend to reply more, and more people join in the conversation - which drives up your post in LinkedIn's algorithm. ("Oh, people are responding to her post - it must be very relevant. Let's bump it up and show it to more people!" - if the algorithm could speak)
4) Recognition Drives Recognition
With that, we can conclude that people love to be recognised. When you ignore a comment, those people who were excited and enthusiastic about engaging with your post will no longer do it the next time.
When people feel that their voice has been recognised, they continue to engage and feel valued. In turn, these folks reply to the comments from others on their comment thread, and drive great discussions which I don't even have to facilitate. That is the power of simple recognition - a positive, continuous loop which pays it forward.
That's also what we learned when building RewardNation.
Using the RewardNation Slack app, employees can recognise each other easily, anytime. Which means managers or HR do not have to constantly force or nurture engagement which sometimes feels like a dread. Instead, employees will enjoy the fun recognition and rewards process, and get hooked on it!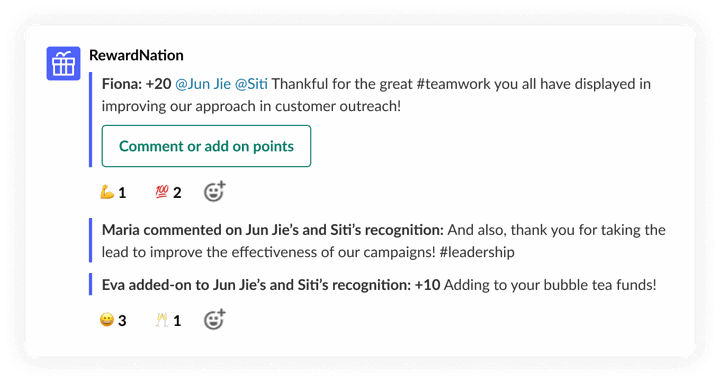 (Try it for yourself - add RewardNation to your Slack workspace for free now.)
5) There is No Formula for Virality
Every CEO tells their Marketers and Creatives that they want a viral post. I'm guilty of the same.
But sadly, there is no definite formula for virality.

My viral post will not be in our playbook on sharing the power of using Peer Recognition to boost employee engagement - because I have no surefire way of replicating it.
All I can do is enjoy how a random post grew to make 400,000+ people laugh, continue engaging with the amazing discussions on the comment threads, cherish the new friends made and great conversations I learned so much from, and continue creating content I enjoy and find relevant to other founders and People & Culture friends.
I hope you found this post a quality piece of content. Let me know your thoughts on using humour on LinkedIn, the hustle culture mentioned in my post, or even if you found reading this a waste of your time.
Here's wishing the viral gods will shine their light on you!
Zelia, Co-Founder of RewardNation (and one-time viral LinkedIn meme creator)
-
RewardNation lets you use Peer Recognition to engage and motivate your employees easily. Team members can use a points-based system to recognise each other for good work, and turn those recognition points into rewards they love.
Try it for free now! (no cc required)