Google built an internal peer recognition system named gThanks!, that made Googlers feel happier and more motivated at work. This was led by Laszlo Bock, SVP of People at Google, and his team. He also shared more on the initiative in his book, Work Rules!: Insights from Inside Google That Will Transform How You Live and Lead. (Read our book notes here.)
If you ever wonder how Alphabet Inc. (Google) has been winning 'Top Company To Work For' in most of the countries they operate in, and for many consecutive years, this simple yet powerful culture habit might give you an insight.
(gThanks! Screenshot. Source: Laszlo Bock)
How gThanks! works:
Googlers give 'kudos' to each other as a form of recognition.
They can also choose to give 'peer bonuses' which adds a monetary reward to the recognition.
The recognition given is published on a public platform for all Googlers to see (and also printed and stuck outside the wall of his office to increase visibility).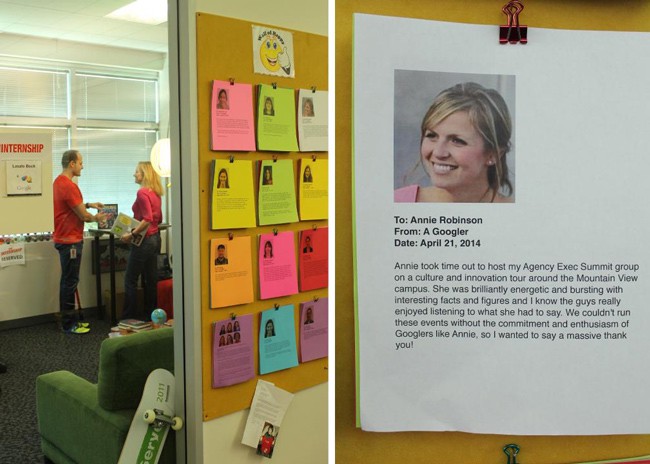 ('Wall of Kudos' Outside Laszlo's Office. Source: Laszlo Bock)
Why was it used, instead of simply sending each other an email/speaking privately:
"Simple, public recognition is one of the most effective and most underutilized management tools." - Laszlo Bock
The employees don't even have to be the giver/receiver of recognition themselves. Studies show that even by witnessing excellence in action, such as acts of gratitude and recognition, can make employees feel good and motivate them to be more productive and creative.
Employees who feel that their work is recognised are more satisfied and motivated, which leads directly to an increase in lower company turnover and higher profits.
How can you incorporate public recognition at your workplace?
Monthly: MVP Award Nominations. Get team members and managers to nominate MVPs (Most Valuable Players), who are announced during monthly company all-hands. You can only nominate others, and not yourself.
Randomly: Treat-A-Colleague Budget. Give each team member a regular budget to buy a treat or do something nice for their colleagues. Such as getting a chocolate bar to welcome a new intern, or buying someone a coffee to say thanks.
Daily: Public peer recognition platforms. Shameless plug here (promise it's not usually done unless really applicable to the example) - Incorporate low-cost recognition platforms like RewardNation, that lets team members give praise to each other and publishes it on a public company platform (Slack channels, email newsletters...). They can also collect points from each recognition received, and use them to receive gift cards from brands they love - which adds an incentive for them to actively engage and recognise each other, thus making it a complete loop of constant recognition and motivation.
If you liked this HR case study, join our mailing list where we share one new case study or book notes every week.
Have a good one!
Zelia
Boost your employee engagement with public recognition & rewards. Use my invitation code Zelia123 to try RewardNation for free here.