By Kim Scott
Published: 2017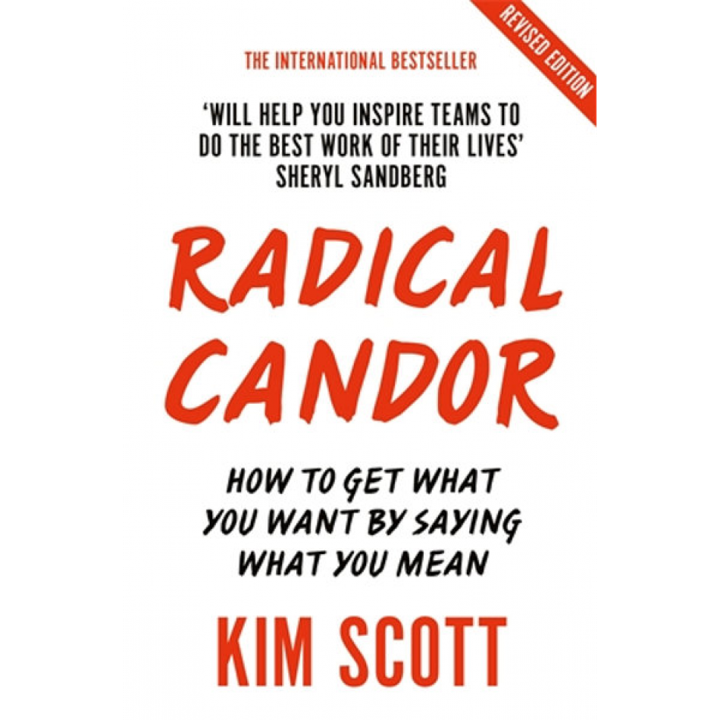 Who is Kim Scott?
Kim Scott is the co-founder and CEO of Candor, Inc. Kim has been an advisor at Dropbox, Kurbo, Qualtrics, Shyp, Twitter, and several other tech companies. She was a member of the faculty at Apple University and before that led AdSense, YouTube, and Doubleclick Online Sales and Operations at Google. Previously, Kim was the co-founder and CEO of Juice Software, a collaboration start-up, and led business development at Delta Three and Capital Thinking. Earlier in her career, Kim worked as a senior policy advisor at the FCC, managed a pediatric clinic in Kosovo, started a diamond cutting factory in Moscow, and was an analyst on the Soviet Companies Fund.
What This Book Is About:
Radical Candor is the sweet spot between managers who are obnoxiously aggressive on the one side and ruinously empathetic on the other. It is about providing guidance, which involves a mix of praise as well as criticism – delivered to produce better results and help your employees develop their skills and increase success.
Great bosses have a strong relationship with their employees, and Scott has identified three simple principles for building better relationships with your employees: make it personal, get stuff done, and understand why it matters. Radical Candor offers a guide to those bewildered or exhausted by management, written for bosses and those who manage bosses.
Summary
The Radical Candor Framework comprises of 4 quadrants. It's to be used like a compass to guide individual conversations to a better place. Not as a personality test to judge yourself or others. Don't write names in boxes. We all fall into each quadrant multiple times a day: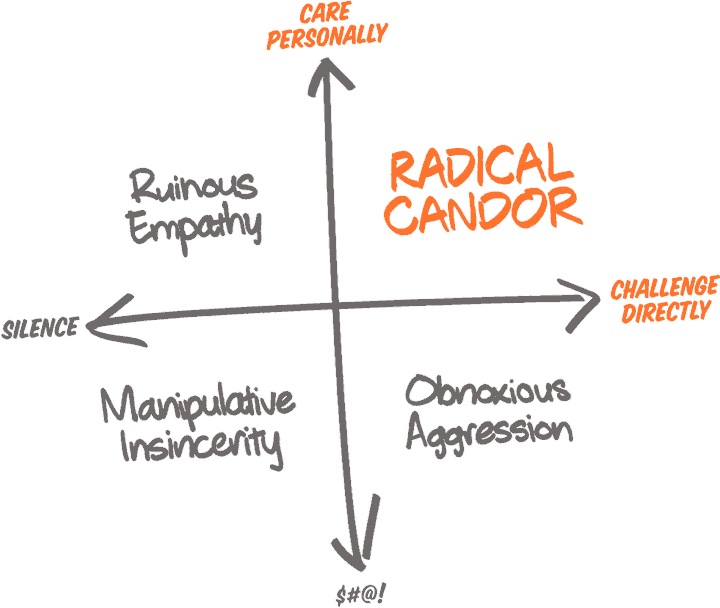 "Radical Candor" is what happens when you put "Care Personally" and "Challenge Directly" together.
PART I: A NEW MANAGEMENT PHILOSOPHY
1. BUILD RADICALLY CANDID RELATIONSHIPS: Bringing your whole self to work
Guidance, team, and results: these are the responsibilities of any boss.
Relationships, not power, drive you forward.
When people trust you and believe you care about them, they are much more likely to: 1) accept and act on your praise and criticism; 2) tell you what they really think about what you are doing well and, more importantly, not doing so well; 3) engage in this same behavior with one another, meaning less pushing the rock up the hill again and again; 4) embrace their role on the team; and 5) focus on getting results.
2. GET, GIVE, AND ENCOURAGE GUIDANCE: Creating a culture of open communication
"It's not mean, it's clear!"
To keep winning, criticize the wins
When you criticize someone without taking even two seconds to show you care, your guidance feels obnoxiously aggressive to the recipient.
When bosses belittle employees, embarrass them publicly, or freeze them out, their behavior falls into this quadrant.
Manipulatively insincere guidance happens when you don't care enough about a person to challenge directly.
Guidance that is manipulatively insincere rarely reflects what the speaker actually thinks; rather, it's an attempt to push the other person's emotional buttons in return for some personal gain.
When giving praise, investigate until you really understand who did what and why it was so great. Be as specific and thorough.
Start by asking for criticism, not by giving it.
3. UNDERSTAND WHAT MOTIVATES EACH PERSON ON YOUR TEAM: Helping people take a step in the direction of their dreams
Manage the two different types of high performers—those on a steep growth trajectory and those on a more gradual growth trajectory—differently.
Find out what motivates each person on your team.
You also need to learn what each person's long-term ambitions are, and understand how their current circumstances fit into their motivations and their life goals.
Your job is not to provide purpose but instead to get to know each of your direct reports well enough to understand how each one derives meaning from their work.
Recognize, reward, but don't promote.
People getting promoted beyond their level of competence creates an unhappy situation for everyone, especially the person who's been promoted.
Keep superstars challenged and know that not every superstar wants to manage.
Raise the bar—there's no such thing as a B-player.
4. DRIVE RESULTS COLLABORATIVELY: Telling people what to do doesn't work
Listen: Give the quiet ones a voice, Create a culture of listening, Clarify, Create a safe space to nurture new ideas, Make ideas drop-dead easy to comprehend.
Debate: Keep the conversation focused on ideas not egos.
Decide: Push decisions into the facts, or pull the facts into the decisions, but keep ego out.
Persuade: Use (the listener's) emotion, Demonstrate credibility with expertise and humility.
Execute: Minimize the collaboration tax.
Learn: Step back, acknowledge when our results could be a lot better or are simply no good, and learn from the experience.
PART II: TOOLS & TECHNIQUES
5. RELATIONSHIPS: An approach to establishing trust with your direct reports
Work-life integration, not work-life balance.
Figure out your "recipe" to stay centered and stick to it.
Show up for yourself.
It's a big mistake to assume too much trust too quickly.
Holding regular 1: 1s in which your direct report sets the agenda and you ask questions is a good way to begin building trust.
Having annual "career conversations" is also an excellent way to strengthen your relationship with each person who reports directly to you.
The important thing to do is to stay in touch with your personal values, and to demonstrate them in how you manage your team, not by writing down things like "hard work," "honesty," and "innovation" on a piece of paper. Live your values.
Recognize your own emotions and master your reactions to others' emotions.
6. GUIDANCE: Ideas for getting/ giving/ encouraging praise & criticism
Get, give, and encourage both praise and criticism.

When you are the boss, 'criticize in private' doesn't apply to you. When you encourage people to criticize you publicly, you get the chance to show your team that you really, genuinely want the criticism. You also set an ideal for the team as a whole: everyone should embrace criticism that helps us.

Ask questions like "What could I do or stop doing that would make it easier to work with me?"
Embrace the discomfort.
Reward criticism to get more of it.
Make it not just safe but natural to criticize you.
Give feedback immediately.
Praise others in public, criticize in private: Public criticism tends to trigger a defensive reaction and make it much harder for a person to accept they've made a mistake and to learn from it. Public praise tends to lend more weight to the praise, and it encourages others to emulate whatever was great.
Caring personally is good. Personalizing is bad.
7. TEAM: Techniques for avoiding boredom and burnout
Have Career Conversations to understand people's motivations and ambitions to help them take a step in the direction of their dreams.
Conversation one: life story.
The second conversation: dreams.
The second conversation moves from understanding what motivates people to understanding the person's dreams—what they want to achieve at the apex of their career, how they imagine life at its best to feel.
Conversation three: eighteen-month plan. Get your team members to ask themselves the following questions: "What do I need to learn in order to move in the direction of my dreams? How should I prioritize the things I need to learn? Whom can I learn from?" How can I change my role to learn it?
Casual interviews reveal more about team fit than formal ones.
If you're not dying to hire the person, don't make an offer.
Don't wait too long to fire.
Don't make the decision unilaterally.
By all means, praise in public. Praise the things you want more of.
8. RESULTS: Things you can do to get stuff done together—faster
1: 1 Conversations - Employees set the agenda, you listen and help them clarify.
Staff Meetings - Review metrics, study hall updates, and identify (but do not make) key decisions.
Think Time
"Big Debate" Meetings
"Big Decision" Meetings
All-Hands Meetings
Meeting-Free Zones
Kanban Boards
Walk Around
Be Conscious of Culture
The book shares lots of case studies and real examples. I have referred to them on multiple occasions when trying to practice radical candor towards my team members, which has been nothing but helpful.
Kim Scott also has lots of resources on Radical Candor on her website, such as podcasts which I've enjoyed.
I'm so happy to finally do book notes on one of my favourite books for leadership and growth. If you've enjoyed it, you can join our newsletter where I share weekly notes and short, practical case studies with 2,800 tech founders and HR folk.
Till the next one, Zelia
Co-founder of RewardNation