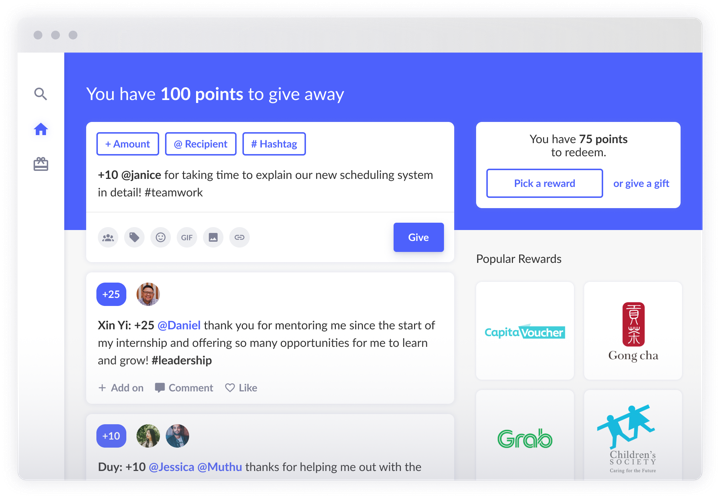 Backstory (scroll down to skip): RewardNation is founded by the team behind Anywhr - award-winning global trip curator, currently with a grand total of 0 trips to plan.
At the start of COVID-19, we were taking the company fully remote and trying to sync with a diverse group of team members. From our engineers in India with 20 years of experience, writers in USA who're facing massive lockdowns, to Singapore polytechnic interns with a heart full of enthusiasm yet with absolutely no work experience. And we had to find a way to connect them all and work together as one.
We tried everything on the playbook and more. From virtual company games, surprising each other with food and bubble tea deliveries, quiz nights, joining Airbnb experiences together (we even had a session with a Shark Scientist in South Africa!), my co founder Felix and I tried everything to keep morale up and connect everyone. We also had our fair share of toggling with Slack integrations, bots, and software platforms to no avail, as the initial hype died down and nothing really stuck.
Yet the one and only thing that did, and still has an engagement rate of 95% throughout our company after almost 1 year, was a recognition & rewards platform.
The moment team members who were usually silent in group chats learned that they could turn peer recognition into tangible rewards they actually like, things took off in no time! It was a low cost and amazingly easy way for us to engage across teams, recognise each other on the little things that often go unsaid, and keep everyone motivated around the world. I've got to admit that even I do a little dance when I receive those recognition messages, no matter how much you tell me the interns are just trying to suck up to their boss.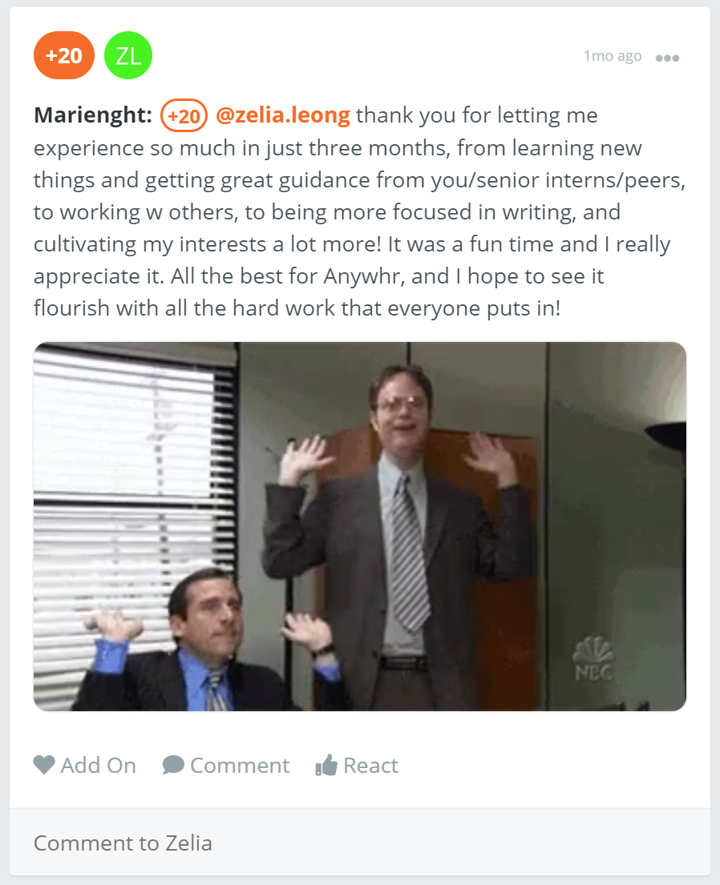 The only (major) downside was that the rewards for team members in Asia were close to none. The only glimmer of hope, a Starbucks gift card option, was also removed from the platform. With us experiencing the success of such a platform, yet disappointed it wasn't made for teams in Asia, we decided to take this into our hands and build a version for companies like us. Tech companies with a strong Asia presence, looking for an easy and fun way to recognise and reward their employees.
-
With that, RewardNation was born.
Recognise and reward in public
Do you remember receiving stickers and gold stars in primary school for your good work, and feeling like you're on top of the world? We all love to be recognised, and it in turn makes us want to do better.
But what's even more impactful is combining recognition and rewards.
After high school, a friend of mine from a pretty well-to-do family took on a summer job as a waiter at The Fullerton to gain some experience and get out of the house. One day after work, he told me that he had the best day ever as a Japanese guest had tipped him with $5.
"It's the first time I got a tip in my life! Although it's only five bucks, it felt really good."
That's when I learned that praise is cheap (or free), yet paired with even the smallest reward makes it priceless. RewardNation shows all recognition on a public feed, and allows team members to add on to individual rewards.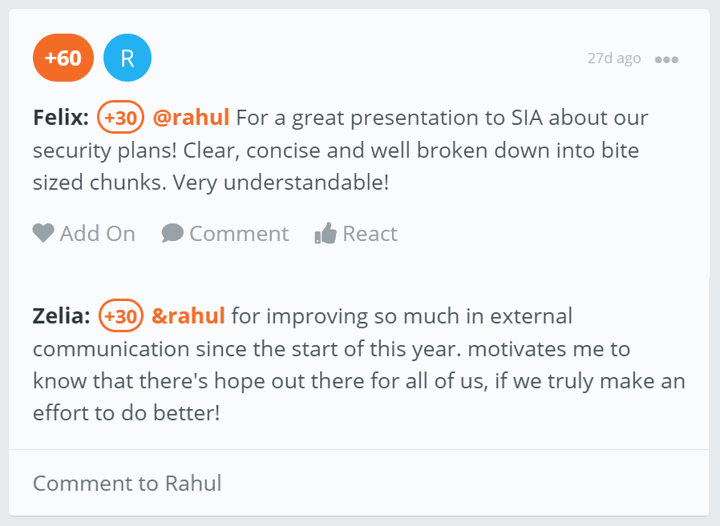 Hundreds of reward partners
From popular merchants like Grab, Netflix, Lazada and Spotify, to cult favourites like Classpass, Love, Bonito, Gongcha, Holey Moley and Palm Avenue Float Club - your employees across Asia can turn their recognition points into rewards easily.
We establish direct relationships even with merchants that don't currently have online gift card options publicly available, so that we can make redemption happen easily and digitally for you and your employees. At no extra cost.
You can also create custom rewards specially for your team! Some rewards in my screenshot appears to be unavailable, because I don't have enough points to redeem them :'(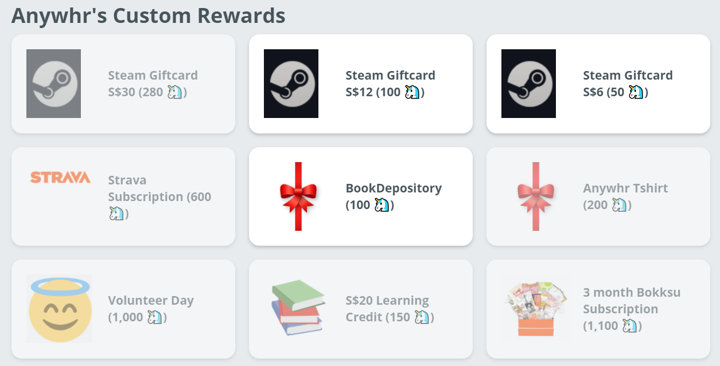 Get early access to recognise and reward your team members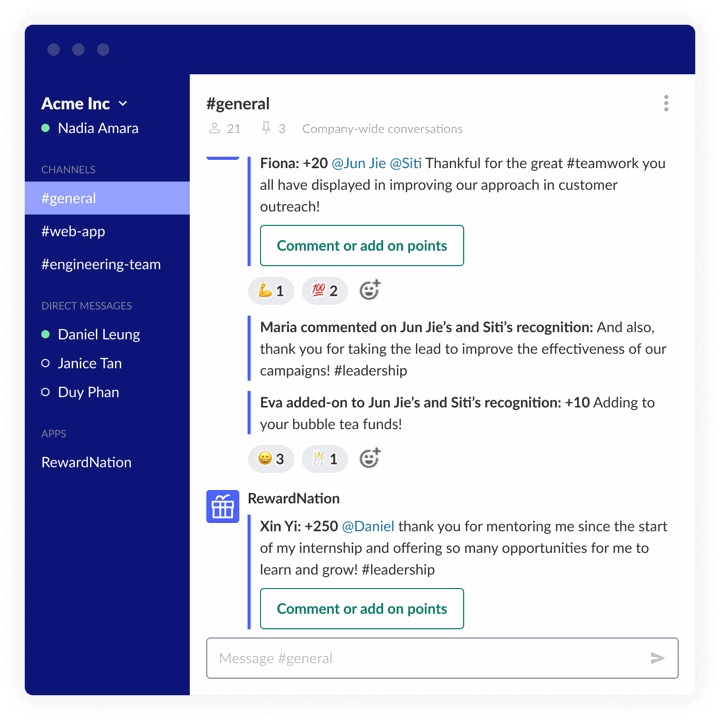 If you're reading this, it means we've connected in one way or another. And I thank you for being a part of our journey. I'd love to invite you to join our waitlist to get early access when we launch on Slack in Jan'21.
If you're feeling generous, I'd appreciate it if you can share this post with 3 friends in your network who might want to try a new way to recognise and engage their team too.
Thank you and happy holidays! :)
Zelia
-
Every week I share short, practical notes on People & Culture. Read the first one here.