by Eric Schmidt, Jonathan Rosenberg, and Alan Eagle
Published: 2019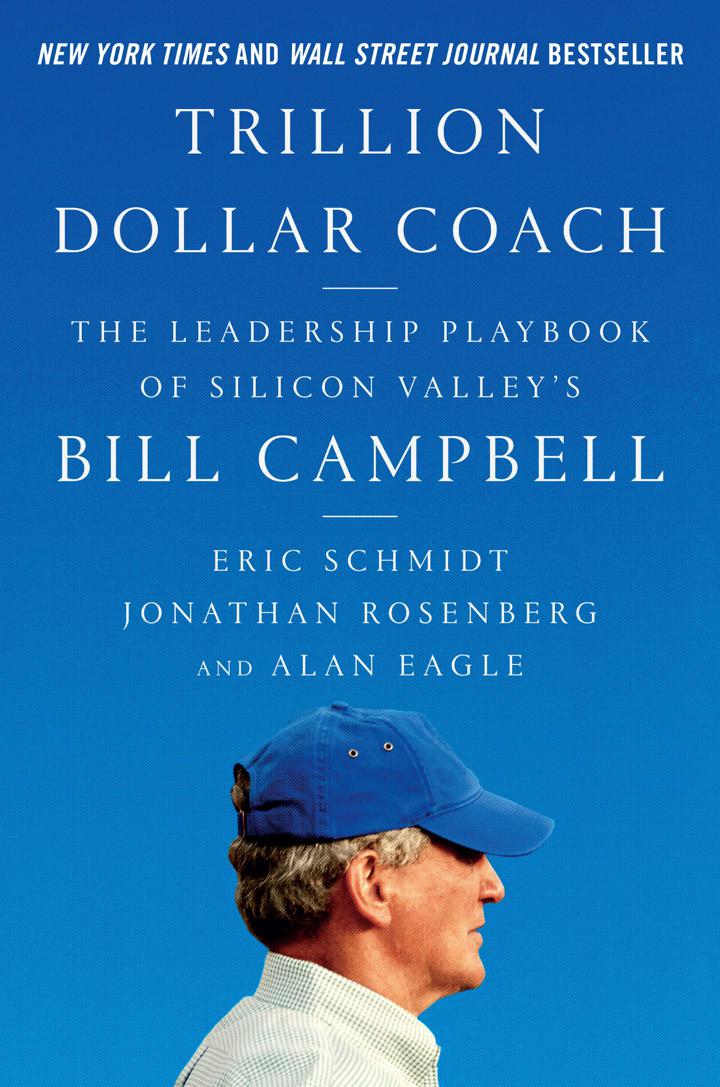 Who are

Eric Schmidt, Jonathan Rosenberg, and Alan Eagle

?

Leaders at Google for over a decade, Eric Schmidt, Jonathan Rosenberg, and Alan Eagle experienced firsthand how the man fondly known as Coach Bill built trusting relationships, fostered personal growth--even in those at the pinnacle of their careers--inspired courage, and identified and resolved simmering tensions that inevitably arise in fast-moving environments. To honor their mentor and inspire and teach future generations, they have codified his wisdom in this essential guide.
What This Book Is About:
The team behind How Google Works returns with management lessons from legendary coach and business executive, Bill Campbell, whose mentoring of some of our most successful modern entrepreneurs has helped create well over a trillion dollars in market value.
Based on interviews with over eighty people who knew and loved Bill Campbell, Trillion Dollar Coach explains the Coach's principles and illustrates them with stories from the many great people and companies with which he worked. The result is a blueprint for forward-thinking business leaders and managers that will help them create higher performing and faster moving cultures, teams, and companies.
Summary:
Building a team culture is a results-oriented process.
Every high performance team needs a good coach and manager to ease the tension and bring all the smart and strong-willed people to work together.
Start meetings with personal topics to build rapport.
Invest in your 1:1s.
Build credibility and trust with your peers, employees and managers, instead of simply telling people what to do.
Identify the "elephant in the room" and air it out fast, then move on.
Build communities and connect people to build a stronger workplace.
Notes
Chapter 1: The Caddy and the CEO
Teams act as communities. When people feel like they are part of a supportive community at work, they are more engaged with their jobs and more productive.
Conversely, a lack of community is a leading factor in job burnout.
High performance teams are in nature populated with smart, aggressive, ambitious, strong-willed and opinionated people. These people can also be rivals, competing in terms of career advancements or fighting for their individual department's welfare.
The trick to turn them into a community and aligned towards a common goal is to have a leader who is both a savvy manager and a caring coach.
Chapter 2: Your Title Makes You a Manager. Your People Make You a Leader.
Remember that it's a results-oriented game. Coming together to have team culture is to achieve results.
It's the people. The top priority of any manager is the well-being and success of her people.
To build rapport and better relationships among team members, start meetings with trip reports or other types of more personal, non-business topics.
A variation of Trip Reports can be starting staff meetings with thank-yous. Thank another team for something that happened last week.
Have structure for 1:1s, and take the time to prepare for them, as they are the best way to help people be more effective and to grow.
Chapter 3: Build an Envelope of Trust
Listen to people with your full and undivided attention - don't think ahead to what you're going to say next - and ask questions to get to the real issue.
Be relentlessly honest and candid, couple negative feedback with caring, give feedback as soon as possible and if the feedback is negative, deliver it privately.
Don't tell people what to do; offer stories and help guide them to the best decisions for them.
People are most effective when they can be completely themselves and bring their full identity to work.
Chapter 4: Team First
When faced with a problem or opportunity, the first step is to ensure the right team is in place and working on it.
The top characteristics to look for are Smarts and Hearts: The ability to learn fast, a willingness to work hard, integrity, grit, empathy, and a team-first attitude.
Peer relationships are critical and often overlooked, so seek opportunities to pair people up on projects or decisions.
Air all the negative issues, but don't dwell on them. Move on as fast as possible.
When things are going bad, teams and looking for even more loyalty, commitment, and decisiveness from their leaders.
Chapter 5: The Power of Love
To care about people you have to care about people: Ask about their lives outside of work, understand their families, and when things get rough, show up.
Cheer demonstrably for people and their successes.
Build communities inside and outside of work. A place is much stronger when people are connected.
Loving colleagues in the workplace may be challenging, so practice it until it becomes more natural.
Chapter 6: The Yardstick
After stepping down from successful careers, here's how you can stay engages and approach the transitions:
Be Creative. Your post-fifty years should be your most creative time to apply your wisdom of experience and freedom where you want.
Don't be a dilettante. Whatever you get involved with, have accountability ad consequence. Drive it.
Apply your gifts. Figure out what sets you apart and what gives you a sense of purpose. Then apply them.
Don't waste time worrying about the future. Most of the turning points in life cannot be predicted or controlled.
This book also includes Bill's Framework for 1:1s and Reviews, and his Peer Feedback Survey questions template.
If you enjoyed my book notes, you can join the email list. I share a new HR case study or book notes with 2,800 tech founders & HR folk every week.
If you're feeling generous, please share this article on Facebook too :)
Till the next one,
Zelia
Co-founder of RewardNation
Boost your employee engagement with public recognition & rewards.
Use my invitation code Zelia123 to try RewardNation for free here.